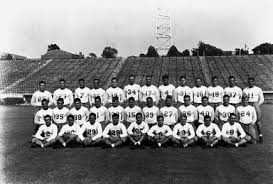 (From the Orlando Sentinel, October 2, 2020. Photo: The 1939 Gator football team at Florida Field.)
Saturday marks the first time Morris family members will not occupy seats 11-14, Section 3, Row 54, West Stands at Florida Field for the home-opener in 81 years. The Gators will be playing South Carolina. And we won't be there.
Neither will about 70,000 other Gator fans. Back in August, trying to cope with the colliding insanities that are Covid-19 and college football, the University of Florida Athletic Association gave us a choice: Take our chances on getting one of the 17,000 tickets that would be handed out via a priority system based on previous donations. Roll over our season-ticket money until next year. Or get a refund. We took the refund. And we're on hold to see what next year will bring.
My grandfather bought our season tickets in 1939 when the Gators opened with a 21-0 win over Stetson and went on to a respectable (for them anyway) 5-5-1 season. We've been re-upping ever since. Even in 1943, when World War II caused the season to be canceled during my father's freshman year at UF. Even after 1946 when he returned home from the war and the Gators went 0-9, their first winless season of the "modern" era (the second being 1979 when they went 0-10-1.) Even after countless seasons when the Gators were godawful and committed the unspeakable sin of losing to both FSU and Georgia in the same year.
And we did this despite the absolute miserableness that is Ben Hill Griffin Stadium in September, a place that has sucked more sweat from human bodies than all the fitness trainers who have ever lived. Steve Spurrier aptly christened it "The Swamp." But that's only because Dante had already trademarked "The Inner Ring of Hell."
We kept our season tickets and showed up at our seats for the opening game because it was always about more than football. It was about family and friends and rooting for Florida. Not just the team but the state.
Especially at the end of the third quarter when we draped our arms around the shoulders of our seatmates and swayed from side to side and wallowed in the cornball lyrics of "We Are the Boys (From Old Florida)," where the "girls are the fairest, the boys are the squarest of any old state down our way, hey!" Since 2017 that old chestnut has segued triumphantly into Gainesville-boy Tom Petty's stadium-rocking "Won't Back Down," the greatest late-game anthem in all of sports.
It was about my mom getting up before dawn to fry chicken for tailgating. It was about driving up to Gainesville and buying boiled peanuts on the side of the road from the same old guy we always bought them from. It was about my dad funneling bourbon into a flask and devising various methods of sneaking it past security. It was about taking a good-luck lap around the stadium before the game, maybe marching alongside the band—"The Pride of the Sunshine"—as it made its way across campus, rousing fans along the way.
When we finally got to our seats, it was all about looking around, soaking up the scene, seeing who had made it back for another season. And who hadn't. Season tickets don't change hands all that often where we sit. We have seen generations pass on every side, made some good friends among them. And while we know most folks only from the backs of their heads and the occasional wave or a nod ("Nice to see you again") we keep track of who comes and goes.
Last year we missed seeing that nice woman from Tampa, a few rows down, must have been close to 90. Her hair was always perfect. Her outfit, too. And she never seemed to sweat as much as the rest of us. She and her husband met at UF in the late 1940s, right after the university started accepting women. Her husband died a decade ago, but she kept coming to the games.
"She said her heart was up for it, but her hip wasn't," her daughter told me last year. "And she made me swear our family will never let go of these seats."
Our family's small chunk of real estate is barely four feet wide, but it contains a multitude of memories. I watched my first season opener from those seats in 1954 when the Gators upset Auburn 19-13. My wife and I brought our sons to their first game in 1985 when the Gators blew a 28-0 halftime lead and tied Rutgers 28-28 in the home opener. And when my dad died several years back, the whole family gathered for the home opener and, as the band played "We Are the Boys," we spread some of his ashes around our seats (for the record, the Gators beat the University of Alabama/Birmingham 51-3.)
Yeah, it has always been about much more than football. And we'll miss it.
Wait 'til next year.